For those looking for a perfect sleeping surface, a latex mattresses provide the ideal combination of comfort and support. Latex is made from liquid latex through vulcanization, The Futon Shop's latex mattresses come in multiple styles with varying comfort levels - giving you an opportunity to find one that promotes superior restorative sleeping for refreshed mornings! Everyone needs a good night's sleep, and a latex foam mattress offers the perfect solution.
Natural latex has a vast and intriguing history, starting with its origins in the Hevea-Brasiliensis tree - better known as the rubber tree. Rubber trees are native to South America but were spread around the world during 19th century due to their immense value. Nowadays, much of this precious liquid is harvested from Sri Lanka where it flourishes thanks to ideal conditions for growth creating an industry centered around natural rubber products.
MOONLIGHT ORGANIC MATTRESS
SHOP NOW
ORGANIC COCOPEDIC EXTRA FIRM
SHOP NOW
COMFORT REST LATEX MATTRESS
SHOP NOW
NATURAL LATEX NOODLES BED PILLOW
SHOP NOW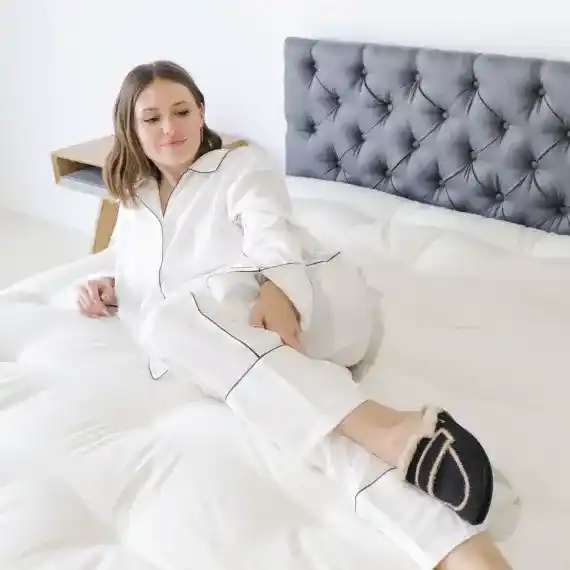 ECO PURE WOOL MATTRESS
SHOP NOW
APEX 4 INCH MATTRESS TOPPER
SHOP NOW
History of Dunlap Latex
Over a century ago, people were accustomed to riding bicycles with wooden wheels, often with steel rims, fashioned similarly to wagon wheels. Scottish veterinarian John Boyd Dunlop introduced a product that would change this forever. In 1888, he invented the world's first pneumatic, or inflatable, rubber tire for bicycles. His invention would later be used for car tires.
Source: Wikipedia
Source: Wikipedia



"The term latex is often used as a synonym for rubber, but the term actually refers to any liquid medium that holds a suspension of tiny polymer particles. Latex is a natural plant substance, but it can also be manufactured by chemical processes."
What is Latex?
Latex is a remarkable concoction found in plants. This sap-like substance contains proteins, alkaloids and other compounds including starch, sugar oils, tannins resins and gums that turns solid when exposed to the atmosphere. Latex is a special creation of the plant's to keep pests away - an ingenious form of natural protection! Latex is an incredibly resilient substance, created by plants to protect themselves from harm. When the plant sustains injury or faces attack from insects, it produces latex as a defensive shield that seals off potential entry points and contains powerful natural compounds such as proteins, starches, sugars and oils which make this extraordinary barrier almost impenetrable!
---
Organic Latex:
Organic latex is made from the sap of the Hevea Brasiliensis Tree which is processed (see manufacturing process for Dunlop and Talalay).The trees are planted on certified organic earth that has been certified organic for 3 years prior to planting. The process of collecting the sap or milk to process the milk to packaging the finish latex cores is controlled and audited through a process to ensure no contamination with non-organic milk or ingredients during the entire manufacturing process. A mattress made from organic latex does not contain any chemicals, synthetics, pesticides, herbicides, or other man-made products. This is why Talalay Latex at present, cannot be classified or listed as organic. The Talalay process utilizes unspecified curing agents including ammonia, as commonly used to stabilize liquid rubber. Ammonia is among 1 of several chemicals that is not found USDA's National Organic Program list of allowed chemicals. Click here, for the full list of allowable chemicals
100% Natural Dunlop or Talalay Latex:
Although Talalay Latex cannot be listed as Organic according to the NOP, you will find it listed as natural or 100% natural. 100% natural latex is made from the sap of the rubber tree but does not contain any petroleum based additives for its final product. The process of harvesting latex and manufacturing Talalay Latex however, cannot be certified as organic due to its use of chemicals that are used. This differs from Dunlop Latex, which can be manufactured without the use of these restricted chemical additives. 100% Natural latex does not carry the associated USDA agricultural certification of Organic as the manufacturing processes are different, according to the GOLS. Check out more about global organic latex standard.
Synthetic and Blended Latex:
Synthetic latex is made from petroleum based, man-made Styrene-Butadiene Rubber (SBR). During World War II, the shortage of natural rubber forced manufacturers to create a synthetic rubber for tires, belts, shoes, and numerous other products. To get a grasp on the demand of rubber, one report showed that in 1992, the United States manufactured over a billion pounds (454,000,000 kg) of synthetic rubber. Although synthetic latex is relatively stable like memory foam or, it is not nearly as durable or as resilient as its natural or organic counterparts. What makes matters more confusing, is that some manufacturers sell their blended latex products as natural latex.
In addition to synthetic latex being inferior to organic latex by means of resilience and durability, synthetic latex, being comprised of petrochemicals, will off-gas. While sleeping on a synthetic latex mattress, you are not only breathing in off-gassing chemicals, but your body is absorbing them through your skin. Further, petrochemicals do not deal well with moisture. As you sleep your body gives off moisture, which becomes trapped in the synthetic latex creating a breeding ground for mold, mildew and dust mites.
---
Most Popular Latex Mattresses
Organic Cocosupport Latex Coir Mattress
SHOP NOW →
Vegan EcoSupport Vegan Latex Mattress
SHOP NOW →
Nova Chemical Free Mattress
SHOP NOW →
Comfort Rest Natural Latex Mattress
SHOP NOW →
Serenity Plus Eco Friendly Latex Mattress
SHOP NOW →
EcoRest Max Customizable Mattress
SHOP NOW →
---
---
---
LEARN MORE
---
---
---
---
---
---
---
---
Everything You Need To Know About Futons