Futon Sizes - What Futon Size Do You Need?
Measuring your space is one of the most important steps before you buy furniture of any kind. After you know how big a futon you will be able to accommodate, you can choose from different sizes. Futons are available in twin, full, and queen sizes. King-sized futons are not very common, but are also available.
Futons can take up a lot of floor space just like beds once they are fully opened out, make sure you have enough space to accommodate the one you are about to buy. Knowing what style futon frame you want will also help. For instance, a futon chair can open up to the size of a twin bed. It would also help to have any other furniture around the futon be easily movable to facilitate opening it, especially if you have to do it frequently.
Futons generally come in single, twin, full, and queen sized. There are two piece loveseat frames available as well. The two piece loveseat models are also called space saver frames. They may come with either a separate ottoman or an pull out ottoman. The ottoman cushions are stored away when not in use.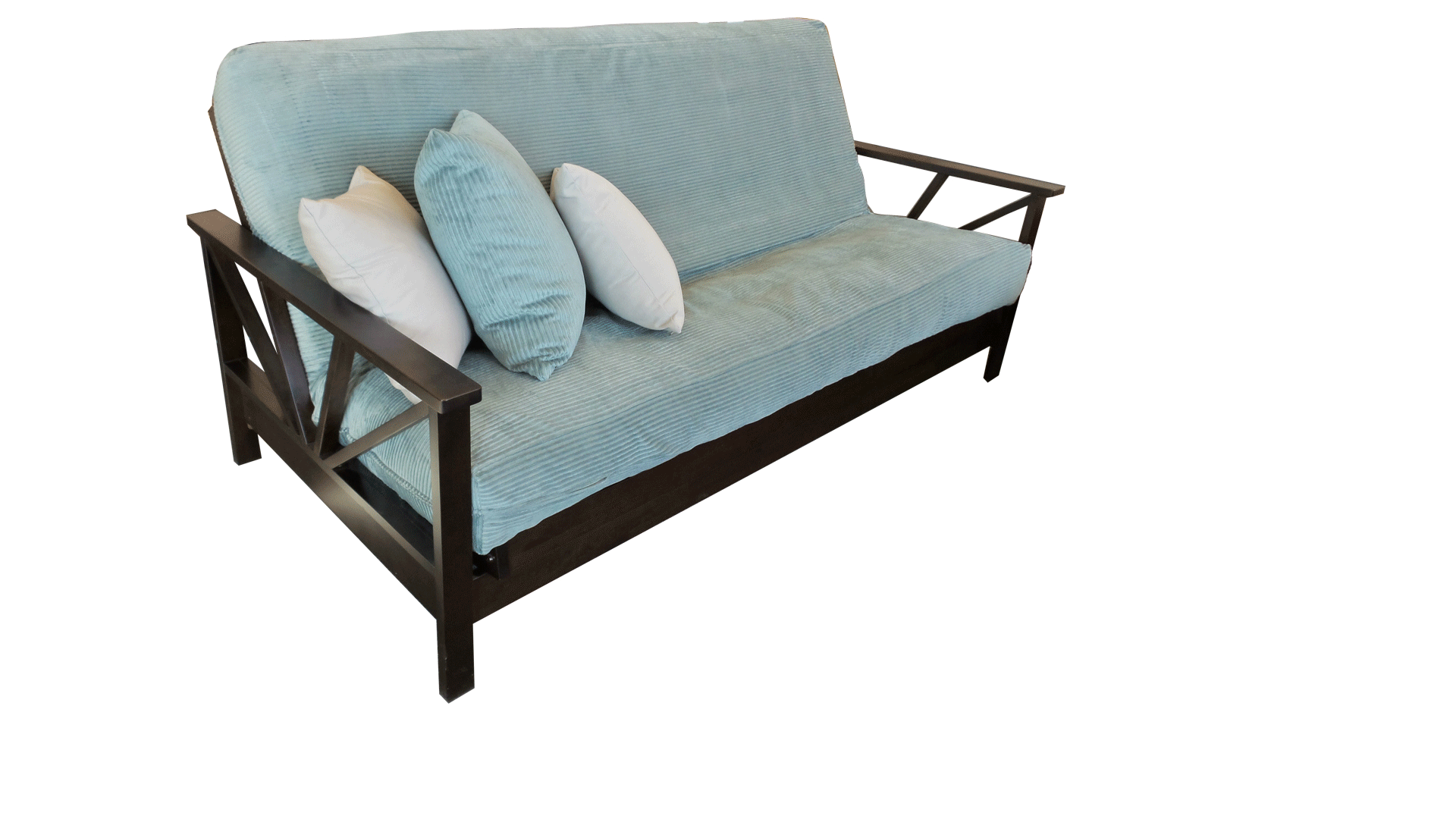 Typically, a bi-fold frames width (distance from arm to arm) corresponds to the mattress length. This is the amount of wall space you will need. For example, a standard bi-fold full size futon frame can range in a length from 77" to 80". This is the amount of wall space you will need at minimum to accommodate this frame. If you do not have much wall space available, the tri-fold frame may be a better option.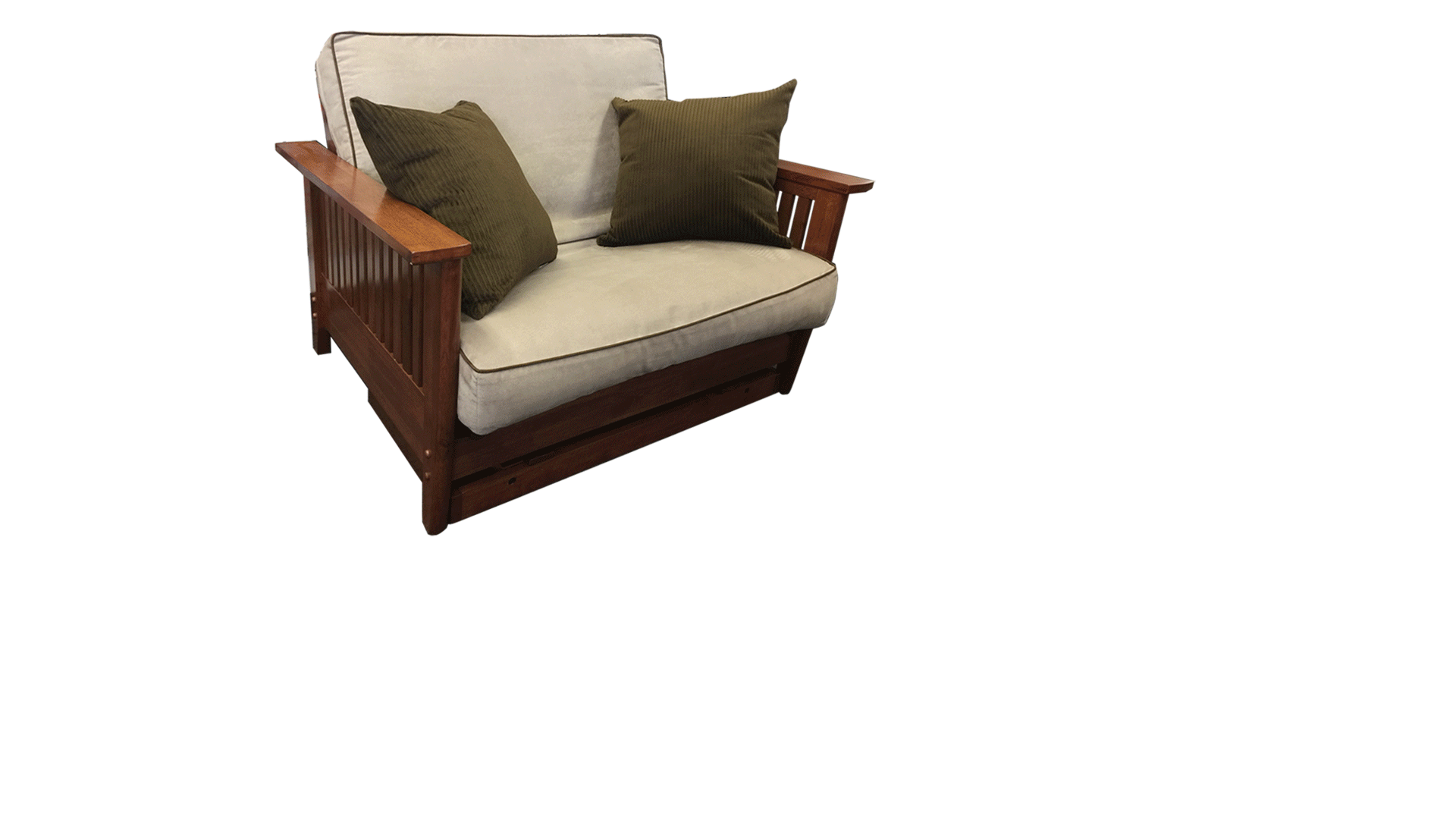 Tri-fold frames were the first type that was widely available when futons were new on the market. As the name suggests, these futons fold in two separate places to create three sections: the seat, the back and a lower portion or foot. Within the tri-fold group, there are two types. These types are designated by a permanently attached foot portion or a separate ottoman portion. The attached version may be more convenient while the separate ottoman is more space saving. Whereas bi-fold frames typically need more wall space, a tri-fold frame uses more floor space. The width from arm to arm corresponds to the width of a futon mattress, rather than to its length as that of a bi-fold futon frame. A full size tri-fold frame may measure 55" to 60" in width.
---
---
Which Mattresses to Consider for Better Sleep?
A considerable percentage of the global population has adopted the Japanese sleeping system, thanks to the growing inclination towards a global lifestyle. With this lifestyle gaining more and more recognition, an increasing number of households now place a lot of emphasis on the right futon dimensions for a good night's sleep.
For instance, a normal futon size guarantees a more restful night's sleep, boosts circulation, and reduces muscle and back problems. Moreover, it's flexible enough to double as a daybed or couch.
We have discussed a few chemical free mattress alternatives for your daily use:
Futon Dimensions Folded
The number of folds and overall futon dimension determines its compressed size. For example, when unfurled, a twin-size bi-fold futon can be 39 by 75 inches, but when folded, it can only be 39.5 by 37.5 inches. On the other hand, the same mattress with a tri-fold design takes up just 39 by 25 inches when folded.
The height or depth of the futon is another important factor to consider. Unfortunately, the thickness of a futon is subjective, and hence there is no universal measurement for it.
A normal futon size four inches tall can be folded in half to make it eight inches or in thirds to make it twelve inches.
Futon Mattress Dimensions
The size of the futon is available in varied numbers from 33 to 51 inches for infants and toddlers to 62 to 82 inches for grownups.
A person who is seven feet tall could find the futon full-size bed mattress to be too small for his comfort level. For this reason, a standard length is not recommended; instead, a futon mattress with an extra size (i.e., 96 inches) would be more comfortable.
Average Futon Length
The average futon size is 82 inches, but the highly extended version can be up to 86 inches in length.
On the contrary, futons in the West and the United States range in length from 75 to 84 inches, with 80 inches being the norm.
It is important to remember that brands can alter an organic futon mattress to meet specific user requirements, even for an average futon size.
Standard Futon Size
A standard futon length measuring 39 by 78 inches is now a norm in Japan. It is important to note that the stated dimensions are for the cloth alone and do not include any filling. When you add padding to a futon, it might lose almost four inches in width and length.
In Western markets, 32-inch by 75-inch standard futon length is the norm and can be used on a regular futon full-size frame.
Small Futons
This futon's compact profile makes it a good option for tight quarters like a reading nook, and its generously sized cushions provide a good night's sleep. Small futons, defined as those with a width of fewer than 69 inches, are more compact than a futon full-size frame while still providing the same sleeping area as a standard twin bed.
Their construction varies; some are simply sofas to which pillows can be added, while others are merely recliners in the living room. These natural mattresses are much more space-efficient than a standard sofa or two twin beds, making them ideal for single occupants or two younger children.
Large Futons
Basements, larger family rooms, covered porches, and even as an alternative to a king-size bed are all great places to put a large futon. They are large enough to accommodate several people comfortably and can be placed in any room without compromising with the aesthetics of the room.
Their standard width is above 79 inches, making them ideal for a cozy afternoon nap or night's sleep for everybody.
Deep Futons
Most seats on deep futons are more than 28 inches. Their widths range from 35 to 79 inches. These futons are perfect for lounging around on movie nights with your cherished companions or for use as an extra seat while entertaining guests.
If you're in the market for a chair or couch made for reclining and relaxing, go no further than a deep futon.
Last Words
It is essential to consider your space, budget, and comfort for a good night's sleep. These parameters encourage you to make the right decision.
However, understanding traditional mattresses and comprehending the sizes of futon mattresses can take time. You may sidestep this misunderstanding by using a handbook that is comprehensive and simple to understand.
In addition, an informed guide can be beneficial in understanding the size of your bed and selecting an organic mattress that is appropriate for it.
With this guide, you now understand the distinctions between full, twin, queen, and king-size mattresses. Then, you can choose a mattress for your use and within your budget.
In addition to these benefits, there are several other noteworthy advantages associated with cotton mattresses.
For instance, rather than going out and purchasing a new mattress before a guest arrives, you could provide them with an extra organic futon mattress instead to sleep comfortably.
---
---
Everything You Need To Know About Futons