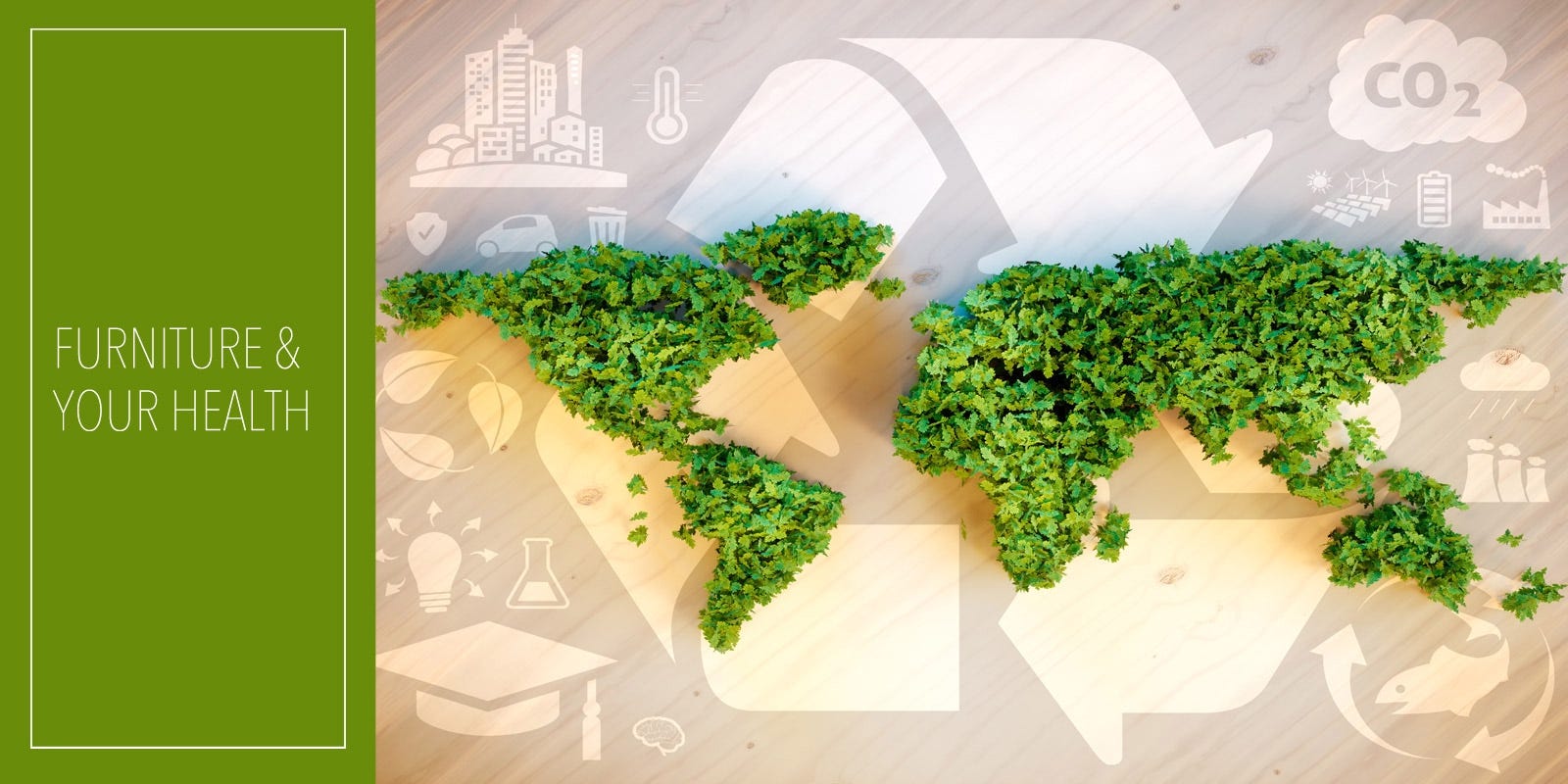 You have now gone through and picked that perfect piece of furniture that will fit perfectly in your home, will match your flooring or carpet, is stain resistant and durable. You bring it inside and enjoy how beautiful it looks or how comfortable is it and what a perfect choice you have made.
Then after a few hours (or minutes in some cases) you notice an odd odor in your room. You may dismiss it as this is what new furniture is supposed to smell like, much like that of the clichéd "new car smell". This new furniture smell should not be dismissed so easily. You may be smelling one or several VOC's commonly found in new furniture. One of the most common VOC's found in furniture is formaldehyde. This can be found in adhesives, if your furniture is made from particle board, or can be in the paint or wood finish.
Formaldehyde is a high volume chemical commonly found in the home. One place it is found is in the adhesive resin that holds composite woods (such as particleboard, plywood and medium-density fiberboard) together and has a similar function in other products. It is also a common disinfectant.
In the home, it is found in furniture and cabinets, many building materials, paper goods, upholstery fabrics and even cosmetics. Although commonly found, it has been classified as a carcinogen by the International Agency for Research on Cancer and a probable human carcinogen by the U.S. government's Center for Disease Control (CDC).
Formaldehyde alone can be cause for alarm. This is not the only concern however. California Flammability laws, (see Technical Bulletien 117), has resulted in the foam inside our sofas, recliners, and love seats being saturated with toxic flame retardants. Since its inception, TB 117 has become a default standard for furniture sold across the country. A recent study found that most couches in the United States contain at least one flame retardant chemical, whether or not they carry a TB 117 label. The use of flame retardant chemicals in furniture are not completely effective in preventing furniture fires and are linked to serious health effects. Further, some of the chemical flame retardants, when heated vaporize making fires more toxic by forming deadly gases and soot -- real killers in most fires. Unfortunately, flame retardants surround us; they are in everything, from our curtains and carpet to our couches and other upholstered furniture.
A study has shown that the ubiquitous use of chemical flame retardants in American Furniture has caused Americans carry much higher levels of these chemicals in their bodies than anyone else in the world and California children contain some of the highest levels ever measured. Chemical flame retardants are not isolated to just your furniture. They can be leached out into the environment as well.
During manufacturing, use and disposal, these chemicals are released into the environment where they can be found in air, water, and wildlife. They are carried on air currents as far away as the Arctic where they pollute native human populations, marine mammals, and even polar bears.
Exposure to toxic flame retardants have been linked to real and measurable health impacts. Women with higher levels of flame retardants in their blood take longer to get pregnant and have smaller babies. Children exposed in the womb have lower IQs and attention problems.Other studies have linked flame retardants to cancer, male infertility, male birth defects, and early puberty in girls. Recent studies in animals linked toxic flame retardants to autism and obesity.
In 2013, California finally updated TB 117. The new standard, TB 117-2013, went into full effect on January 1, 2015, and is expected to improve fire safety and eliminate the need for toxic flame retardant chemicals (although it does not prohibit their use).
Although this update will not eradicate the use of chemical flame retardants, it will help reduce the amount in the environment. Once new standards are finalized, we can buy toxic-free, fire safe couches, but we can't shop our way out of exposure to toxic chemicals.
Knowledge is key. Be aware of what is inside your furniture and what options are available to help avoid VOC's or Chemical Flame retardants. You have healthier options available such as purchasing solid wood furniture or selecting water based low VOC paints or stains when purchasing wood furniture. As far as mattresses, there are chemical free as well as organic mattresses available at affordable prices.
---
Click to learn more about What Causes Poor Indoor Air Quality?
---
LEARN MORE
---
---
---
---
---
---
---
---
Everything You Need To Know About Futons