A latex mattress with organic ingredients includes certified organic latex. If you're looking for a certified organic latex mattress, the best organic latex mattress is available at The Futon Shop. These mattresses are made with all-natural ingredients and provide superior comfort and support. Their excellent breathability ensures that you'll stay cool and comfortable all night long, while their durable construction ensures that it will last for years to come. Plus, you can rest assured knowing that these organic mattresses are hypoallergenic and eco-friendly, making them perfect for anyone looking to make a green purchase. With an organic latex mattress certified organic latex mattress, you can reap the best benefits of a great mattress without compromising on size or shape.
Popular Questions:
Are organic latex mattresses safe?
Yes, organic latex mattresses are widely considered to be a safe sleep option. Made from natural latex derived from the sap of rubber trees, these mattresses are free from harmful chemicals and synthetic materials commonly found in other mattress types, ensuring a healthier and eco-friendly sleep environment.
What is the difference between organic and non-organic latex?
Organic latex is a natural and eco-friendly material derived from sustainably grown rubber trees and processed without harsh chemicals. Non-organic latex, on the other hand, may contain synthetic additives and be produced with less regard for sustainability and purity.
Is latex mattress organic?
Latex mattresses can be both organic and non-organic. To ensure a natural product, look for an organic certification and verify its use of sustainable, chemical-free methods.
What is organic latex mattress made of?
Organic latex mattresses are made of natural latex extracted from the sap of rubber trees, and are free from harmful chemicals and synthetic materials.
What are the disadvantages of a latex mattress?
Latex mattresses can be expensive when compared to other types of mattresses and some individuals may find them too firm or uncomfortable due to a lack of plushness or contouring. However, these downsides may vary depending on personal preferences as many people still find them to be durable and provide good support.
What is the difference between Dunlop latex and Talalay latex?
For the type of latex we choose Dunlop latex over Talalay Latex and other latex hybrids for the extra support and resistance it provides for the sleeper.
Any questions about TFS Latex Mattress: email customer service: customerservice@thefutonshop
Learn more about our Latex Mattresses with organic cotton covers with wool as a flame retardant
BENEFITS OF ORGANIC LATEX
Breathable
Durable
Temperature Control
Hypoallergenic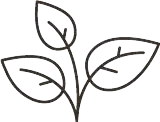 Sustainable
Relieves Pressure
---
In order for latex to be considered GOLS Certified, the latex must pass many different traceable functions from tapping to the finished product even the workers environmental conditions and fair trade measurements. A few of these requirements are listed below:
a) First and foremost the organic latex must be traceable back to its organic field and the latex / raw material supplier.
b) The manufacture must provide quantity consistency in the organic latex lots, records shall be maintained, and also showing unused stock balances.
c) Clear separation of Organic products from products that are not certified, during all stages of processing.
d) Certified Organic raw material and the finished product must be identified throughout the processing chain.
e) Operational procedures and practices are supported by a paperwork and document system and the records will provide an audit trail.
f) The manufacture must keep a a written quality manuals, covering Name of the operator, Client number assigned by the Certification Body, Version number and date, flow charts of the operations procedures including complaints. Below are the items needed before any organic latex can be certified
GOLS certification is crucial for ensuring organic latex mattresses. Dunlop latex is the only type that can receive organic certification, while Talalay latex contains ammonia, a caustic chemical, and cannot be certified. With various latex options available, it's important to prioritize GOLS certification for those seeking an organic product. Different types include 100% natural latex (Talalay or Dunlop), 85% natural latex with 15% synthetic latex, and 15% natural latex with 85% synthetic latex. Therefore, certification is vital to avoid deception when purchasing latex products.
---
Most Popular Organic Latex Mattresses
Organic Cocosupport Latex Coir Mattress
SHOP NOW →
Vegan EcoSupport Vegan Latex Mattress
SHOP NOW →
Luna Non Toxic Mattress
SHOP NOW →
Comfort Rest Natural Latex Mattress
SHOP NOW →
Dawn Best Eco Friendly Mattress
SHOP NOW →
Softnest / Moonlight Organic Mattress
SHOP NOW →
Celestia Organic Latex Mattress Topper
SHOP NOW →
Firm Dunlop Latex Topper
SHOP NOW →
3" GOLS Certified Organic Latex Topper
SHOP NOW →
---
Global Organic Latex Standard
What Makes GOLS Certified Organic Latex So Special
Click to read about
Should You Buy A Organic Latex Mattress?
Click to read about
How Are Latex Mattresses Made?
.
Click to browse through some great
organic futon mattresses
.
Click to browse through some great
organic mattresses
.
Click to read about
How Long Does A Futon Mattress Last?
.
Click to read about
Which Mattresses Are Best For Motion Isolation?
.
---
LEARN MORE
---
---
---
---
---
---
---
---
Everything You Need To Know About Futons