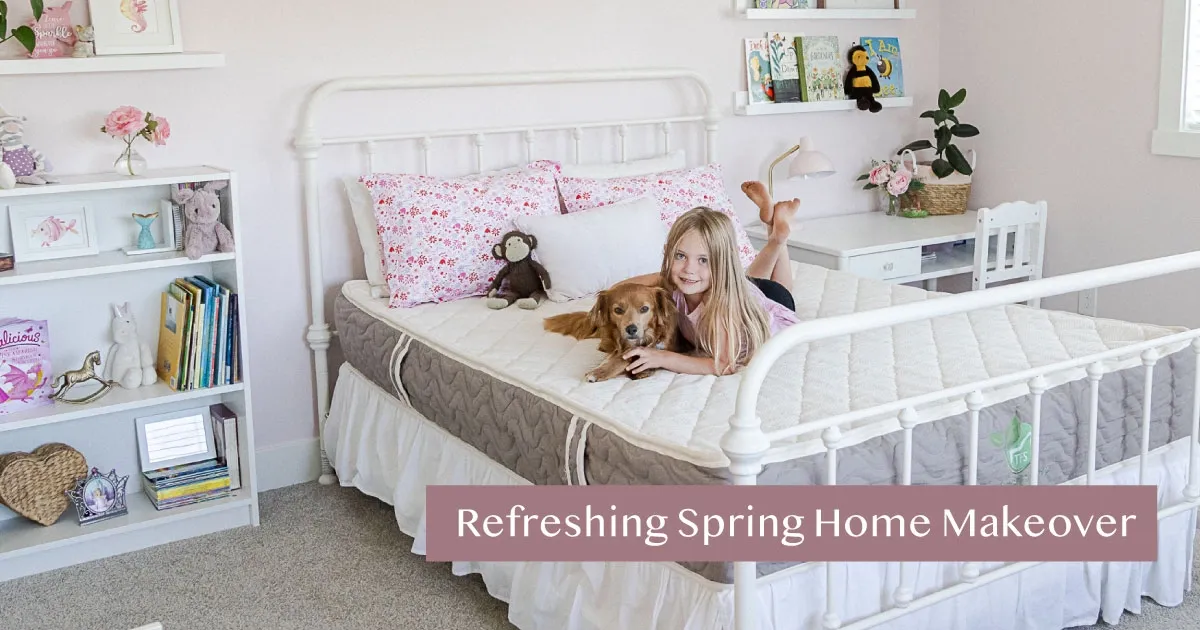 Refreshing Spring Home Makeover
Decorating a bedroom with organic furniture starts investing in toxin- free mattresses, bedding and platform beds. Create a pure, chemical-free oasis in your bedroom with organic furnishings is an exciting adventure. It's important to remember that this sacred space should be tailored to our personal taste and functional needs.
Start by selecting the perfect color scheme, as it sets the tone and mood in the space. For example, take a look at your white wall, green wall, and take a look at the focal point. Designing elements with organic furniture starts with finding your style. Consider finding inspiration from styles that resonate with you, such as bohemian or from a Scandinavian designer. Incorporate practical and stylish storage options to minimize clutter. Create a positive atmosphere with building materials in your bedroom with organic sustainable resources.
What is Organic furniture?
Imagine walking into your bedroom each night and knowing that you're surrounded by furniture made from natural, organic materials. Before diving into bedroom home decor, it's essential to understand what organic furniture is. Organic furniture refers to furniture made from certified organic ingredients. You will find materials that are certified organic such as; wool, latex, and cotton.
It is also great to find furniture that is natural, renewable, and sustainably sourced. By choosing organic furniture, you're not only enhancing the aesthetics of your bedroom, but you're also minimizing your carbon footprint.
Sustainability
Choosing the Right Pieces
Now that we know what organic furniture is, let's discuss how to choose the right pieces for your bedroom. Start with the essentials: a bed frame, mattress, nightstand, side table, and dresser. Look for furniture made from sustainably sourced wood, like FSC-certified, and non-toxic finish or sealant.
When you choose your mattress, consider materials like organic latex, organic cotton quilted covers. Here is a list of bedroom ideas and inspo for a Nursery, toddler room, kids room, master bedroom. Here are some ingredients with organic certifications
Make your living space a reflection of who you are! Incorporate pieces that capture the essence of yourself, like statement artwork and bold accessories. Choose coffee tables and nightstands that bring the entire room together - make them be focal points in expressing your own style.
Focus on comfort, soft lighting, and take the time to carefully select the best bedding to create the perfect place to unwind and relax. Remember, a well-designed bedroom should feel like a warm hug, enveloping you in tranquility and peace, as you drift off into a good night's sleep.
Kids Bedroom
Introducing a new tradition to your spring break bucket list this year. Designing the ultimate eco-friendly bedroom design for your little one. Not only does it promote a healthier and safer environment, but it's also an affordable alternative to traditional kids room design with natural elements. With just a few simple steps, you can transform your child's bedroom into a beautiful, natural, and sustainable interior design oasis. Infuse warmth, liveliness, and eco-conscious design styles into your child's personal sanctuary, fostering a strong sense of environmental responsibility as they grow older. So go ahead and embark on this delightful journey of creating an eco-friendly kids bedroom decor – it's just a click away, and the results will be cherished for years to come.
Boys Bedroom
Redesigning a boys bedroom to a supercool transformation is just steps away.Check out The Inspire Hive design and tips.
Girls Bedroom
A girl's bedroom has to have sparkle. Right!? Yes. All girls no matter what age dream of a bedroom that is magical. At least that is how I remember it, with wishes of pink, flowers, stars, and kittens. But as a parent, factors like functional, practical, and organic takes priority. Check out this design with this organic mattress. You can add an organic mattress topper to any mattress you have in any size, or find an affordable organic mattress with over 10 choices in comfort with certified organic ingredients.
Nursery Room
Baby Nursery Room Select a natural crib mattress with natural materials for an eco friendly nursery. Newborns are so small and vulnerable, it is so important to choose a crib mattress with zero toxins. Check out this beautiful organic modern style design and learn about The Futon Shop's Natural Crib Mattresses.
Welcoming a newborn into the world is a magical experience that fills us with love and a sense of responsibility. As you set up the perfect baby nursery room for your little one, one key decision to make is selecting a natural crib mattress for an eco-friendly nursery. With newborns being so small and vulnerable, it's of utmost importance to choose a crib mattress that is not only comfortable but also free from toxins.
The Futon Shop's Natural Crib Mattresses are crafted with care and expertise, ensuring your baby's nursery is both charming and safe. These beautiful designs are made from high-quality, sustainable materials, keeping your baby's well-being and the environment in mind. As you explore the range of options available at The Futon Shop, rest assured knowing that you're giving not only your baby, but also the planet, a healthier and happier future. So, go ahead and create that enchanting sanctuary where your little one can dream, grow, and thrive.
Naturesoft Chenille Herringbone Organic Cotton Baby Blankets
Master Bedroom
Designing your master bedroom with organic modern furniture can be a delightful journey into the world of eco-friendly living. Imagine waking up each morning, surrounded by natural materials that are not only stunning in appearance, but also thoughtfully crafted to have minimal impact on our environment. As you bask in the warm and friendly ambiance, consider selecting pieces that are made from sustainable wood, repurposed materials, or chemical-free fabrics that align with your values. Additionally, adding lush green plants and nature inspired accents can heighten the sense of serenity in your sleep haven. Ultimately, choosing organic furniture for your master bedroom will not only help preserve the planet for future generations, but also enhance your daily well-being, resulting in a space you'll be proud to call your own.
There are many popular interior design styles that incorporate organic modern interiors such as; scandinavian styles, contemporary interiors, midcentury modern. Or what is more popular in 2023 is bohemian style, eclectic style, or maximalist design. If the latter is not your style, you can always design with the traditional interiors such as; french country, shabby chic, or modern farmhouse.
Futons have truly evolved into versatile and stylish pieces of furniture that are perfect for those with limited space or for a bedroom or living room with an organic modern design. Their functionality allows them to blend seamlessly with various decorating styles, clean lines, ensuring that your living space remains both cozy and aesthetically pleasing. Imagine creating an organic bedroom sanctuary centered around a beautifully crafted futon sofa with clean lines, reflecting a sense of simplicity and elegance.
The wide array of futon covers available in a diverse range of colors and natural textures enables you to customize your futon to fit your own unique style, adding a touch of warmth and personality to your home. At The Futon Shop you can choose from a huge neutral color palette and Opt for a futon to not only maximize your space, but also to enhance the overall ambiance of your living quarters.
Futons For A Guest Room
There's something truly welcoming about a guest room equipped with a cozy and stylish futon. Just imagine the delight of your guests as they enter a room that offers not only a comfortable and convenient sleeping arrangement but also the functionality of an inviting space that can serve as a separate seating area during the day.
The function of a futon not only maximizes space but also adds an element of warmth and friendliness to the room. Furthermore, modern futons come in a diverse range of styles, and you can easily find one that complements your interior décor. So, the next time you have visitors coming over, wouldn't it be lovely knowing that they will feel right at home, enjoying the perfect blend of comfort and style in your thoughtfully designed guest room?
Sustainable Shopping Tips
When shopping for organic furniture, it's essential to look for labels and certifications like GOTS (Global Organic Textile Standard), FSC (Forest Stewardship Council), or GREENGUARD, which verify that the products meet strict environmental and social standards. Take a tour of our certification.