Embracing a minimalist bedroom with a Wabi Sabi Design includes aesthetics with Japanese furniture like a Japanese floor futon mattress. A folding futon mattress is both reliable and space saving, made from natural materials like wool, cotton and latex with zero chemicals or processing. If you're looking to maximize your living space, a futon for floor design is an excellent choice! With its stylish design and cozy comfort, this remarkable piece of furniture will help bring the best out of any small area. It can make your room look sophisticated while not creating too much clutter; making rooms feel less cluttered and still making room for more! With a Japanese futon floor bed, you can fold it into a sofa when guests come over or spread it out in your bedroom - the choice is entirely yours.
Wabi Sabi Design is an approach for how to live your life and how to design your home, centering on finding beauty within humility and accepting the natural flow of life. When designing your bedroom with Wabi Sabi details, you are looking for materials that are raw, natural, and unprocessed. Bringing natural materials into your home creates a space that encourages simplicity and harmony, incorporating low profile Japanese furniture such as; Japanese shikifutons, shikibutons, tatami mats, tatami beds are ideal Wabi Sabi aesthetics. Bringing a little bit of tranquility into the bedroom is key; slowing down our lifestyles in order to make room for quietness, beauty, and meditation should be done within all households. If you're looking for traditional and sustainable furniture solutions for a wabi sabi designed bedroom, take a tour of our Japanese furniture collection. Our selection provides an array of unique pieces crafted from the finest natural materials to beauty to any room.
The art of achieving Wabi-Sabi, according to Wijaya and Zen teachings, can be distilled into seven key elements should you be on a journey to adopt this approach within your interiors:
1. Kanso — simplicity
2. Fukinsei — asymmetry or irregularity
3. Shibumi — beauty in the understated
4. Shizen — naturalness without pretense
5. Yugen — subtle grace
6. Datsuzoku — freeness
7. Seijaku — tranquility
The above teaching applied in one's home creates harmony and serenity in your living space. Creating a space that is simple and natural elements encourages comfort and space to connect with yourself and with nature.
CREATING YOUR WABI SABI BEDROOM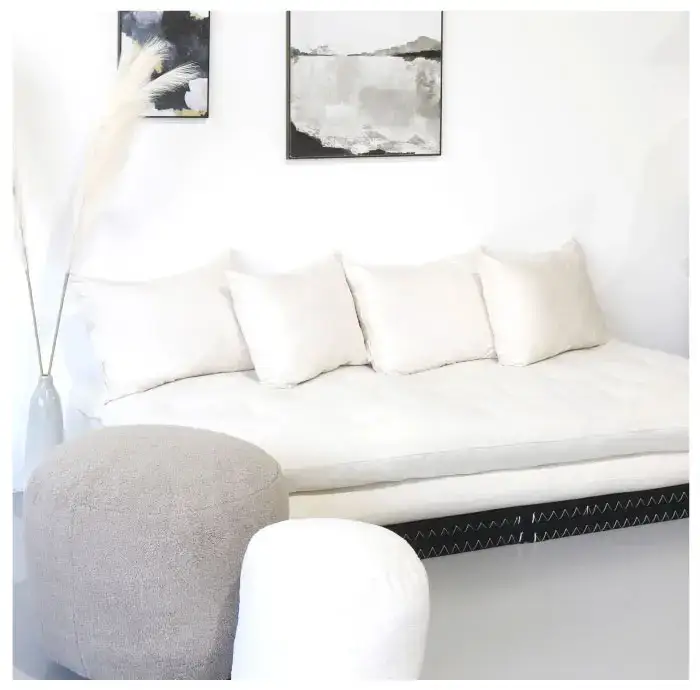 WABI-SABI MINIMALISM
To create a space that is uncluttered and serene, where each element has a purpose and a place.