Are you curious about finding your interior design style? Take a peek inside contemporary artist Kate Tova's home to get inspired and learn how her vibrant artwork, teal eco-sofa, and other features bring out her unique aesthetic.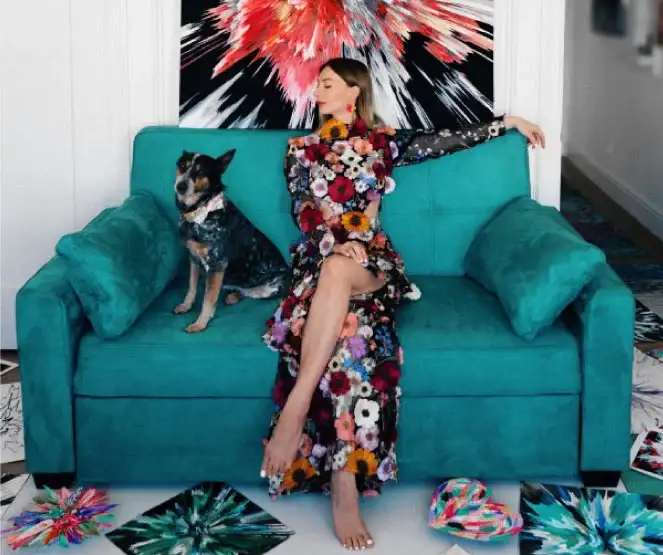 Look Inside Contemporary Artist Kate Tova's Studio
Source: @kate_tova
Finding Out What Is My Interior Design Style?
Steps To Finding what is my interior design style: When it comes to decorating our homes, we all want to create a space that reflects our personality and style. But with so many interior design styles to choose from, it can be overwhelming to determine which one is right for you. That's why today, we're taking a closer look inside the studio of contemporary artist Kate Tova to see how she has incorporated her artistic style into her living space. By exploring her unique approach to design, we will discover how to choose an interior design style that truly represents our individual taste.
Contemporary Artist

Kate Tova's Studio
Get ready to be transported into a world of vibrant colors and bold multimedia with contemporary artist Kate Tova. Currently based in San Francisco, Tova experiments with innovative techniques and thick textures to create unforgettable large-scale artworks that simply burst with creativity.
To choose an interior design style that reflects your personality and taste, it's essential to identify the colors and patterns that you are drawn to. Looking to spruce up your space with interior design styles that are on-trend and timeless? Look no further than these 20+ popular interior design styles:
Transitional —Traditional Modern - Eclectic Style Contemporary - Minimalist Mid-Century -Ninimalist - Mid-Century Modern - Bohemian - Modern Farm House Shabby Chic - Coastal. Hollywood Glam - Southwestern— Rustic - Industrial French Country— Scandinavian Styles - Mediterranean - Art Deco - Asian Zen - Modern farmhouse - Midcentury Modern
In addition to focusing on the elements that make up your design style, it's crucial to consider the functionality of your space. Kate Tova's studio is designed to inspire creativity and productivity, with ample space for painting and drawing. Your living space should be designed to meet your individual needs, whether that means creating a dedicated workspace, or incorporating storage solutions for your hobbies and interests.
Choosing an interior design style can feel overwhelming, but by taking inspiration from Kate Tova's studio, we can discover the key elements that reflect our unique style. Whether it's opting for a minimalistic approach, using contemporary or modern art, art- work as the focal point or incorporating unexpected design elements, trust your instincts to create a space that feels authentic to you and do not forget to choose your furniture and accessories. Remember, your living space should be a reflection of your personality and taste, so take your time and have fun experimenting with different styles until you find one that truly speaks to you.
What's the difference Between Contemporary Art vs. Modern art:
Contemporary art involves various artists, such as sculptors, and those who work in three-dimensional, painting, photographic, video, or installation mediums. These artists use an array of natural materials, from wood, paper, paint, and wax, to milk, rice, pollen, and plaster. In addition, they work with diverse elements like stone, glass, metal, plastics, photos, slides, videos, and computers to create their works.
Contemporary Art In Fine Art Museums:
What is a contemporary Artist?
Contemporary art is a vibrant and dynamic medium that captures the essence of our rapidly changing world. Created by living artists, contemporary art offers a unique perspective on the issues that shape our daily lives.
All About Kate Tova
Kate Tova, a contemporary artist, creates works that explore some of the most pressing issues affecting society today. Her art is infused with themes of freedom, fear, female empowerment, and the relationships between these concepts. Utilizing mixed media painting, Kate's work evokes a sense of capture and movement that is at once sculptural and innovative. Growing up in authoritarian rural Russia, she understands the importance of freedom and how it is often taken for granted. Kate's primary motivation is to create art that is both meaningful and inspiring, something that will touch and resonate with people on a deep level. Through her work, she seeks to empower individuals to find their voices and to break free from the chains that hold them back. Her art is a powerful testament to the human spirit and the power of creative expression to transcend boundaries. When it comes to contemporary artists, Kate Tova stands out. Her unique visual language, which she calls "Glitches," draws inspiration from her surroundings, including landscapes, plants, and people.
LEARNMORE >
Did you know Toochi Paints - Watch these videos: