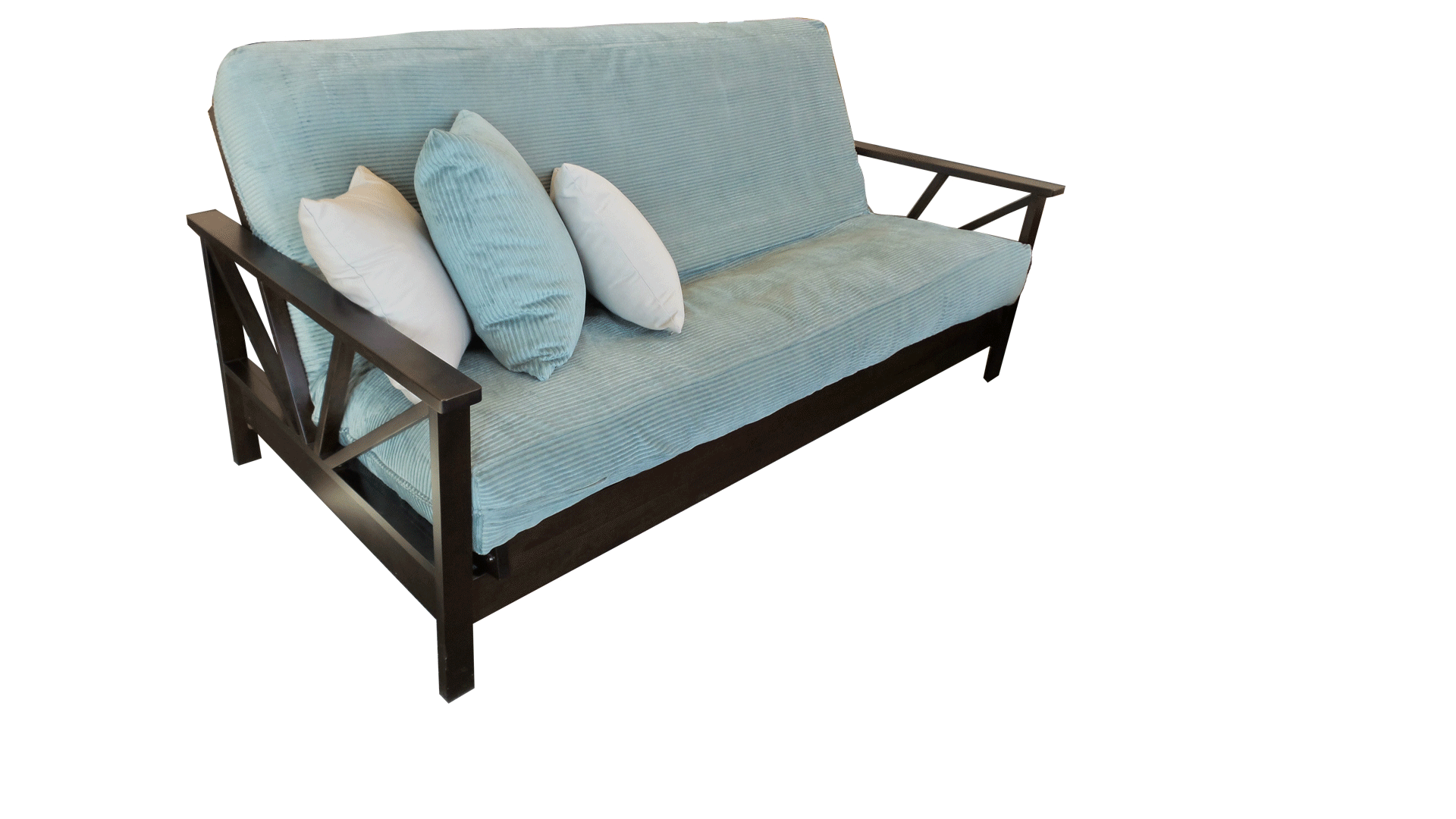 Wallhugger Futon Frames
Wallhugger Futon Frame Love Seats
Wallhugger Futon Frames, Loveseat Wood Futon Beds From Strata Furniture
A Partner For Sustainability
You won't believe how easily these Strata Wall Hugger Futon Frame sofa bed models convert from couch to bed. Not only do we love this design but we love that the wood used to create this line is certified by the Malaysian Timber Certification Council! Who wants to lift a heavy sofa bed frame or futon and mattress away from the wall in order to go to bed? With this patented front loading strata wall hugger mechanism this beautiful sofa bed furniture has the versatility of a sofa and the adaptability to convert to a bed in one easy movement.
Wallhugger Futon Frames and Loveseat are available in sofa length full and queen size beds and twin, full and queen space saving loveseats. Manufactured for us by Strata Furniture these wall hugger frames are ideal for small spaces or anyone who needs a sofa by day and bed by night. Low VOC finishes are available in Black walnut, Dark Cherry, Warm Cherry, White and the natural color of this hardwood Maple.
Make The Most Of Your Room!
Whether you need a small Wooden Futon Bed to fit into a corner, a large futon frame that is easy to operate, or wish for a convertible space without serious strain these Wallhugger Futon Frames are the perfect solution. When you have extra recreational rooms or more than one living room you wish to make available to guests these products are awesome choices for their beauty and functionality. To add style, comfort, and maximize functionality on an affordable budget choose any of our Wallhugger futon frames!
Solutions For Life
The name wall hugger comes from a design which directs movement away from your walls during conversion. With the frame's motion directed away from your walls to eliminate the possibility of scratching or denting these futons are a more practical option for any living room or recreation space. A wall hugger does not require the frame to be moved away from the wall when converting the futon for sleep saving you the hassle of straining yourself.
To save space, allow for easier transformation with less effort, and eliminate damage to walls caused by standard futon options you should choose these frames. We promise your Wallhugger Futon Frame never has to move from the wall when it is time to go to bed to save you significant hassle. The Futon Shop is the only retailer to offer strata wall hugger futon beds in maple in full sizes, queen sizes, and twin wall hugger loveseat sizes in pecan, warm cherry, black and black walnut finishes.
A Mission That Matters
Bed frames and sleeper sofas from The Futon Shop are all made with high quality, natural, and sustainable materials. We believe a natural household free of harmful toxins should be achievable at any budget which is why we seek natural and organic materials directly from the source to use for the products we manufacture and retail! We also specialize in custom manufacturing our covers and mattresses in all sizes so your family sleep absolutely chemical free. Now you have the option of hand crafted cushions that can be chemical free for an organic lifestyle!
Shopping Local? Come Visit Us Today!
The Futon Shop proudly stocks all frames so your order is immediately ready for delivery and assembly! Since our humble beginning in Los Angeles we have stayed true to our mission of providing practical and affordable quality furniture solutions while pioneering our unique line of Organic and Chemical Free Sleeping Products.
For those buying online, remember that we can ship to anywhere in the United States. Take a look at any one of our Store Locations!
Strata Frame wallhuggers are so easy to transform into a comfortable sleep space you can do it with one hand! Add any premium hand crafted organic mattress made by The Futon Shop and you can be sure you are not setting yourself up for a difficult job every time you wish to provide for a guest. Not only do futons provide great function for any room but our products are built without harmful chemicals so you can be absolutely positive you are not exposing your loved ones to a multitude of dangerous chemicals. Wall hugger futon frames are an affordable, stylish, and practical living room option for any growing family, view all of our different wall hugger frames and learn about their features below!
Minimal Price: $ 404.21 404.21
Shopping Options
Price

Size

Finish